International insurance Survey at Kozloduy NPP
Tue, Feb 28, 2017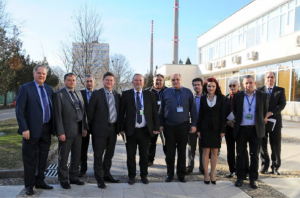 February 21-23, 2017 under the requirements of the Vienna Convention on Civil Liability for Nuclear Damage an International insurance Survey was held at Kozloduy NPP (Bulgaria).
The previous insurance Surveys at the site took place in 2007 and in 2012.
The team of experts consisted of Mr.O.Ananenko, Ukrainian Nuclear Insurance Pool, Mr.A.Nikitin, Russian Nuclear Insurance Pool, and was headed by Mr.Paul Galbraith, Surveyor of the British Nuclear Insurance Pool.
Within 3 days the Surveyors assessed insurance risks at NPP for NTPL and MD, checked the status of risk improvement recommendations, provided upon the results of the previous Surveys of the International pooling system, IAEA, WANO.
The Inspectors provided preliminary observations for further nuclear safety level improvement at NPP and also highlighted strengths of the site of Kozloduy NPP as follows:
High level of operational conditions of the facilities and equipment
Investments in production process modernization
Fire protective station nearby the NPP, etc.
Taking into account the lifetime of the NPP and considerable systems and equipment modernization at the site, including response to the accident at Fukusima, the experts were overall positive in their assessment of the territory, production areas, buildings and other facilities of Kozloduy NPP.
They were satisfied with high level of radioactive release controlling system at the NPP, radiological environment monitoring and emergency systems, emergency response center and a full-scale simulator.
The experts recommended the staff of the NPP to proceed with further safety culture improvement, keeping high operation level, maintaining workshops to avoid machinery breakdown, as well as providing fire protection at the NPP.
The Surveyors were satisfied with positive tendency of risk improvement recommendations implementation.
The final report upon the results of the Survey will be issued in three months.
« back