Insurance Survey at Baltic Shipyard, Ltd
Mon, Nov 21, 2016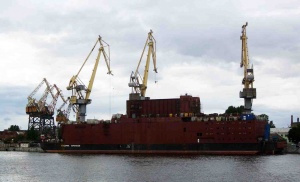 November 15-17, 2016 the Baltic Shipyard, Ltd hosted the first insurance Survey at Floating nuclear co-generation plant (FNCP) "Akademik Lomonosov" , which was held by the experts of the Russian Nuclear Insurance Pool and was aimed at assessing insurance risks during the process of commissioning before nuclear fuel loading. The inspectors also took the opportunity to monitor construction and installation process at the lead multipurpose nuclear icebreaker Arktika.
The team of the experts was headed by Mr.S.Babenko, RANI and consisted of Mr.A.Nikitin, RANI, Mr.V.Vashchilo, RANI, Mr.A.Dovidenko, RANI.
Mr.D.Lobanov, JSC Sogaz, Mr.M.Rodin, JSC Sogaz, Mr.A.Avdonin, JSC Sogaz and Mr.A.Dvornikov, JSC Sogaz took part in the Survey as observers.
During the Survey the experts:
monitored the construction and installation process, commissioning activity, harbour testing at Floating NPP
assessed nuclear insurance risks of possible reactor damage after the delivery of fresh nuclear fuel to the vessel's storage, after nuclear fuel loading and during the process of harbour testing (including reactor start-up and reactor power start-up)
inspected the equipment and facilities of Floating NPP
At the meetings the experts were provided with the information regarding the current status of the Floating NPP, measures to be taken during the process of commissioning to keep safety level at the site before the delivery of fresh nuclear fuel to the Floating NPP.
The inspectors interviewed the personnel, overviewed the facilities of the Plant and the floating NPP, assessed safety systems of NPP, analyzed personnel qualification, focused on fire safety systems, nuclear fuel management, environment monitoring, etc.
Upon the observations made during the Survey the experts provided preliminary results.
The final report is to be issued in three months.
« back