Follow up International insurance Survey at Balakovo NPP
Mon, Nov 14, 2016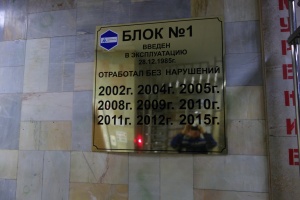 November 09, 2016 a follow up International insurance Survey at Balakovo NPP (Unit 1-4) took place to update insurance risks at NPP for NTPL and MD. The previous insurance Surveys at NPP took part in 2009, 2012, 2014.
The experts overviewed nuclear safety, operation safety, fire safety level at NPP taking into consideration the report of Balakovo NPP on the status of risk improvement recommendations, provided one month prior the visit.
The team of experts was headed by Mr.A.Nikitin, Deputy technical director of RANI and Mr.V.Vashchilo, Deputy Technical director of RANI.
The inspectors certified by IPS analyzed presentations and interviews with management and staff of the NPP, examined reporting technical and operation documentation, made observations during the Survey.
The NPP was well prepared for the Survey. The staff of the NPP provided all necessary information and presentations, gave sufficient explanations and comments.
The experts found safety level of equipment, facilities, territory of NPP satisfactory, gave positive appraisal to visual marks, painted in a special way equipment, notice-plates, safety notices, appreciated effective work of the personnel in supporting safety culture at the site.
The inspectors expressed their appreciation to the NPP's management and staff for their comprehensive assistance and cooperation during the Survey.
The surveyors were overall satisfied with positive intention of the NPP to implement risk improvement recommendations following the previous Surveys, stated an acceptable safety level of insured equipment and facilities at the site of Balakovo NPP.
« back