International Insurance Survey at Novovoronezh NPP
Mon, Oct 24, 2016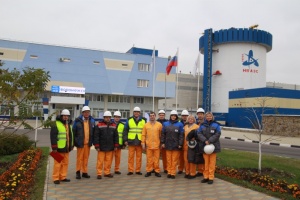 October 18-21, 2016 a scheduled International Insurance Survey was carried out to inspect the insured activities at Novovoronezh NPP. The previous Survey took place in 2014.
The team of experts was headed by Mr.S.Babenko, Technical manager of RANI, and consisted of
Mr.M.Shannon, NRI Ltd., UK
Mr.Z.Li, Nuclear Insurance Pool of China
Mr.A.Nikitin, RANI
Mr.V.Vashchilo, RANI
Representatives of Rosenergoatom Mrs.E.Yemelyanova, Mr.V.Lebedev, Mr. V. Plotnikov, representatives of RANI Mr.Pavel Rudenskiy, Mr.A.Dovidenko as well as representative of JSC Atomic Insurance Broker Mr.M.Ishchenko took part in the Survey as observers.
The experts updated the insurance risk at NPP for NTPL, reviewed the status of risk improvement recommendations made following the previous Survey (Units 3,4,5), investigated conditions of the construction process and safety level of commissioning activities at Unit 6 and decommissioning activities at Unit 1 and 2.
During the Survey the experts provided recommendations to keep and improve safety level at NPP and also brought to light strengths of Novovoronezh NPP:
Safety level of the equipment, and operating process at the facilities (Unit 3,4,5)
High-investment program and consequent implementation of modernization and safety improvement programs (Unit 4,5)
A progressive approach to active and passive safety systems (Unit 6)
Welcoming attitude to peer review and technical support missions
Significant success in developing waste management technology with the usage of plasma furnace during the decommissioning process at NPP (Unit 1,2)
Taking into consideration lifetime of the NPP and existing safety systems the inspectors were overall positive in their assessment of the state of things at NPP.
The surveyors also gave positive appraisal of the radioactive release controlling system at NPP as well as radiological environment monitoring and emergency systems. The experts noted positive tendency in implementation of the recommendations.
The inspectors expressed their appreciation to the NPP's management and staff for their comprehensive assistance and cooperation during the Survey.
The final report upon the results of the Survey will be issued in three months.
« back