International Insurance Survey at Beloyarsk NPP
Mon, Oct 10, 2016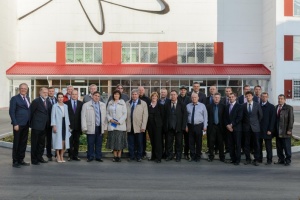 October 04-07, 2016 a scheduled International Insurance Survey was carried out to inspect the insured activities of Units and other facilities of Beloyarsk NPP.
The previous Survey took place in 2014.
The team of experts was headed by Mr.S.Babenko, Technical manager of RANI, and consisted of
Mrs.V.Martell, NRI Ltd., UK
Mr.A.Zakharov, Ukrainian Nuclear Insurance Pool
Mr.A.Nikitin, RANI
Mr.V.Vashchilo, RANI
Representatives of Rosenergoatom Mrs.E.Yemelyanova, Mr.V.Lebedev, Mr. S.Dolganov as well as representative of JSC Atomic Insurance Broker Mr.D.Voronov took part in the Survey as observers.
The Survey was mainly aimed at updating the insurance risk at NPP for NTPL and MD.
It was follow up Survey to inspect decommissioned Units 1 and 2 with AMB reactors and operating Unit 3 with BN-600 reactor (the previous inspection was held in 2011), and initial Survey of Unit 4 with BN-800 reactor, which was put into operation at the end of September 2016.
The experts updated nuclear safety, operating safety level, fire safety level at NPP for NTPL and MD.
The staff of the NPP provided all necessary information and presentations, gave sufficient explanations and comments, provided access to NPP's facilities. The inspectors took the opportunity to investigate reactor compartment, turbine house, unit control desk, auxiliary shutdown room, safety systems compartments of Units 3,4 and other facilities.
As it was noticed the key risk improvement recommendations given upon the results of the previous Survey had been implemented, some of the recommendations are under consideration. During the Survey the experts brought to light strengths of Beloyarsk NPP and also provided recommendations to keep and improve safety level at NPP.
The inspectors express their appreciation to the NPP's management and staff for their comprehensive assistance and cooperation during the Survey.
« back