Technical Seminar "Nuclear Power Industry, Insurance Surveys and New Risks" for RNIP members
Fri, Sep 30, 2016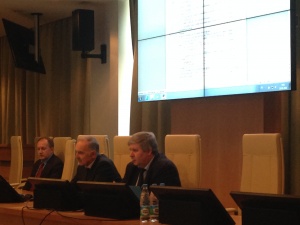 The Seminar "Nuclear Power Industry, Insurance Surveys and New Risks" was held September 29, 2016 in the Conference Hall of SC SOGAZ. The event was arranged for RNIP members by RANI Technical department together with RNIP Technical committee.
During the Seminar the participants were provided with information on developments in nuclear power industry, insurance surveys procedure, nuclear risks assessment at nuclear facilities, new risks in Nuclear Industry, further development of insurance surveys.
The attendees took the opportunity to discuss a wide range of issues:
Insurance surveys results and conclusions based on RNIP surveyors' experience, risks assessment; lifetime extension and modernization of NPP units and possible risks; construction of floating NPP and insurance risks of FSUE Atomflot; commissioning of new NPP units and basic risks connected with construction and commissioning process; decommissioning of nuclear facilities; specific risks of nuclear fuel cycle facilities and research institutes, its peculiarities; cyber risks and risks monitoring.
« back