Machinery Breakdown Seminar in Düsseldorf
Mon, Sep 12, 2016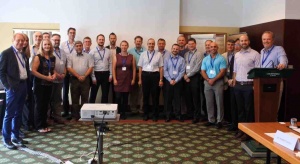 September 04-09, 2016, in Düsseldorf, Germany, Machinery Breakdown Seminar for nuclear engineers of the International Pooling System was organized by German Nuclear Insurance Pool (DKVG).
More than 31 representatives from 13 national nuclear insurance pools and organizations attended the event: USA (ANI), Canada (NIAC), United Kingdom (NRI), France (Assuratome), Netherlands (DNP), Germany (DKVG), Check Republic (CNIP), Sweden (NNI), Switzerland (SNIP), Ukraine (UNIP), Japan (JAEIP), Spain (Espanuclear) and Russia (RNIP). RANI was represented by Mr. V.N. Vashchilo and Mr. A.A. Nikitin, Deputies Technical Director.
The following issues were brought to light in the course of the Seminar:
Machinery breakdown of the process (reactor, turbine, chemical) and electric equipment used at NPPs.
German experts' experience in monitoring equipment and safety systems at local NPPs.
Machinery breakdown risks at transportation of heavy cargoes (lifting equipment, etc.) at operating units and at NPPs under construction.
Cybersecurity of safety systems at NPPs.
Developments of IPS guideline on machinery breakdown and equipment failures prevention.
During the Seminar the following events also took place:
ESC meeting headed by Mr. Marc Roothooft;
One-day visit to the site of Siemens Corporation in the nearby Mülheim-an-der-Ruhr, where the attendees got acquainted with the production process of steam and hydraulic turbines and electric generators.
The attendees took the opportunity for:
Discussing presentations;
Exchange experience and observations on arrangement and holding insurance surveys at NPPs;
Developments to guideline on surveys procedures;
During so called Thinktank the experts practiced in assessment of how specific machinery and equipment breakdowns may influence on nuclear safety and fire protection at NPPs, how to prevent such breakdowns and possibly decrease their influence on insurance risks for nuclear damage.
Summarizing the results of the Seminar the attendees highly appreciated the professional level of the event organization, gave positive appraisal of the most interesting presentations, and noted significant role of such events in nuclear insurance pools interconnection. There were suggested new, pending topics for further discussion.
« back