International Insurance Survey at South-Ukraine NPP
Mon, Jun 20, 2016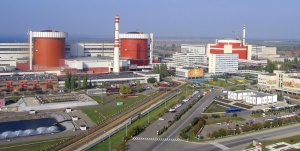 June 14-16, 2016 an International Insurance Survey (IIS) of the insured activities was held at South-Ukraine NPP equipped with VVR-1000 type reactors (unit 1-V302, unit 2-V338, unit 3-V320). The previous International Insurance Surveys were arranged at this NPP in 2004, 2007 and 2013.
The Survey was headed by Mrs.Valerie Martell, the surveyor of the British Nuclear Insurance Pool (NRI) with the experts from the Ukraine, France and Russia. During three days Survey experts assessed the NPP insurance risks for further arranging NTPL insurance, considered the measures taken in accordance with the recommendations made by the results of the previous Surveys organized by the International Pooling System, as well as International Atomic Energy Agency and World Association of Nuclear Operators.
The surveyors highlighted the strengths of the site and formulated some recommendations aimed at insurance risks reduction. "The first thing I would like to emphasize, - this is reliable operation and high safety level at NPP for many years. All this years the NPP has been performing the activities aimed at further improvement of the safety level. This is a very good program and you are implementing it successfully," - said Mrs.V.Martell in her summarizing speak.
Among the strengths of South-Ukraine NPP she also mentioned successful completion of lifetime extension programs at Units Nos. 1 and 2, high qualification of personnel, well-equipped fire protection brigade located close to the NPP etc. The NPP equipment is at the acceptable level taking into account the operating period of the plant.
Among the advantages the experts also noted the high level of radioactivity release and radiological situation monitoring, emergency safety level, external and internal crisis centers, hydrogen incinerators installation at the units containments (in view of the Fukushima disaster), etc. This time the list of recommendations was shorter compared to the previous one. The surveyors wished the NPP to proceed with further safety culture improvement, keeping up operational and fire safety.
The IIS experts were also satisfied with implementation of the recommendations made during the previous Survey. Three of ten were implemented to the full extent, five ones are in the progress, two more were mentioned in updated list of recommendations.
In three months the final nuclear insurance Survey report will be produced by the experts. As it was mentioned by Mrs.Val Martell, the insurance risks at NPP meet the standards and NTPL agreement may be arranged.
« back