International Insurance Survey at SC ChMZ
Fri, Jun 10, 2016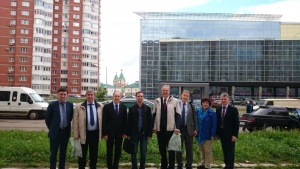 June 7-9, 2016 the experts of the Russian Nuclear Insurance Pool (RNIP) performed the first International Insurance Survey (IIS) at the site of Chepetsk Mechanical Plant (ChMZ) in Glazov of Udmurt Republic.
Stock Company Chepetsk Mechanical Plant is incorporated within the Fuel Stock Company TVEL, a subsidiary of State Corporation Rosatom.
The Survey was aimed at assessing insurance risks at the facilities of SC ChMZ to arrange NTPL and MB insurance in the Russian Nuclear Insurance Pool and further reinsurance in foreign Nuclear Insurance Pools.
In the course of the visit the Surveyors attended meetings with the plant managers and specialists, interviewed the managers and specialists of the operating departments, took into consideration and discussed the prepared presentations, performed walkdowns/ visual inspections of the production facilities, experimental areas, tailing storage facilities, visited a plant museum.
The Survey members focused on issues associated with industrial, environmental, nuclear and radiation safety, fire protection, emergency safety level, reliability of power supply equipment, etc.
The surveyors paid special attention to the measures taken to improve and to keep safety level at the plant and to its further development.
The surveyors highly appreciated the assistance and cooperation of the representatives of PSC MSZ and SC TVEL provided during the Survey.
« back