International Nuclear Pools' Forum in Paris, France
Fri, Jun 10, 2016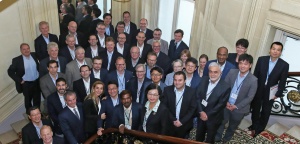 June 01-02, 2016 the International Nuclear Pools' Forum was held in Paris, France. It was participated by the leaders of National Nuclear Insurance Pools of the International Pooling System.
The informative Agenda of the Forum provided an excellent opportunity to exchange the opinions on wide range of issues associated with nuclear insurance and re-insurance. In the course of working sessions the participants focused on:
consequences on environment and the human body
strategy and developments
RANI was represented at the Forum by Mr. Pavel Rudenskiy, President of RANI, and Alexander Selivestrov, reinsurance specialist of RANI. Mr.Pavel Rudenskiy made a presentation.
RANI representatives took the opportunity to hold bilateral negotiations with representatives of National Pools.
Forum was followed by the meeting of the General Purpose Committee (GPC).
All Forum participants appreciated the high level of the event organization as well as its intensive social program.
« back