5-th Nuclear Engineers' Seminar/Forum of the International Pooling System in
St.-Petersburg, Russia

Sun, May 29, 2016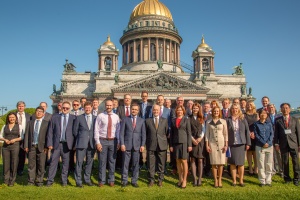 May 23-26, 2016 RANI hosted in Saint-Petersburg the 5-th Nuclear Engineers' Seminar/Forum on "Technological risks at the final stage of the units operation and decommissioning. New risks in the nuclear industry."
The event attended more than 30 representatives from national nuclear insurance pools/organizations. RNIP was represented by Pavel Rudenskiy, President of RANI, Sergey Babenko, Technical director of RANI, Vladimir Vashchilo, Anatoly Nikitin, Deputies Technical director, Alexander Kravtsov, Head of Technical Committee.
In the course of the Seminar/Forum the following events also took place:
A meeting of Technical subcommittee headed by Mr. N. Boss (the Netherlands);
The Technical Tour to Leningrad NPP, Sosnoviy Bor, where the attendees took the opportunity to observe the territory of Leningrad NPP-1 (RBMK-1000 plant) and spent fuel storage facility, the territory and available facilities of Leningrad NPP-2 (VVER-1200 plant).
Within 2 days nuclear engineers changed experience and ideas on pending issues of nuclear national pools' activities connected with insurance surveys at NPPs, discussed guidelines on Survey procedures at nuclear facilities, focused on advantages and disadvantages of providing more detailed underwriting information in the surveyors' reports. The attendees also presented their observations on NPP decommissioning.
Summing up the results of the Seminar/Forum the attendees expressed their appreciation for the arrangements provided during the event and noted that such Seminars positively contribute to development of business interaction in the field of nuclear risks assessment, provide nuclear specialists with new knowledge, help to keep up with the development trends in nuclear industry.
« back